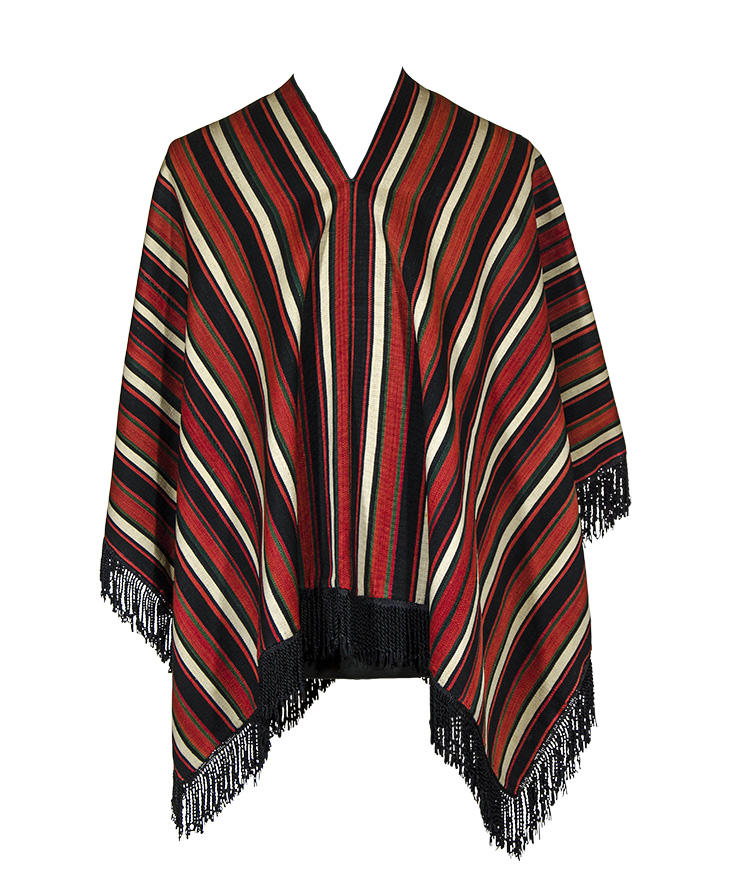 Silk poncho. Early 20th century.

Unique four-cloth poncho. Its structure recalls that of the Jesuit ponchos; the four cloths joined by single-saddle stitching respecting the opening of the mouth and hem at the ends. Its perimeter fringe of black silk threads, twisted and knotted, provides a worthy framework and is in keeping with the beauty of this poncho - a unique piece - traditional in its conception and exotic in origin. Measurements: Height: 115 cm. (45.27 in.) Width: 105 cm. (41.33 in.) Fringes: 6 cm. (2.36 in.).

This garment adds to the nobility of its raw material, other elements that make it attractive and desirable for the collector. The cloth has been woven with heavy silk yarn from Bursa (1), in the Anatolian region (Turkey), on a pedal loom, in a single piece of almost five meters long, probably brought to our country at the beginning of the century past. Due to its notable scarcity, we imagine that the piece of cloth was acquired by some opulent Argentine who visited Central Asia in the midst of some pleasure and adventure trip, frequent at that time. And already in our country he commissioned the confection to local artisans who assembled the garment with its perimeter fringes.

While they were touring the exhibition "El Poncho: Arte y Tradición" (October-November 2001 at the Museum of Decorative Art), one of its curators explained to the chronicler of the Culture supplement of the newspaper La Nación: "… You have to go to the hall adjoining to admire silk ponchos, a material that was imported, and woven in the country with threads produced by the breeding of silkworms, known since 1800 ... ", while in the catalog book of the same -in the page 48- refers "… At the same time, exemplaries of English ponchos made from silk arrived in the lands of Plata…".

Notes:
1. Bursa was a nerve center on the "Silk Road", its first western point, located just over a hundred kilometers from Istanbul.
| | |
| --- | --- |
| LOT | 44 |
| PRICE BASE | U$S 2560 (Banco Nación seller quote) |
| OFFER ACTUALLY | U$S 3310 (Banco Nación seller quote) |
---
Are you interested in selling some works?
Send us an email briefly indicating
which works you intend to put on sale, and we will respond. click here
Subscribe to our newsletter to be updated.