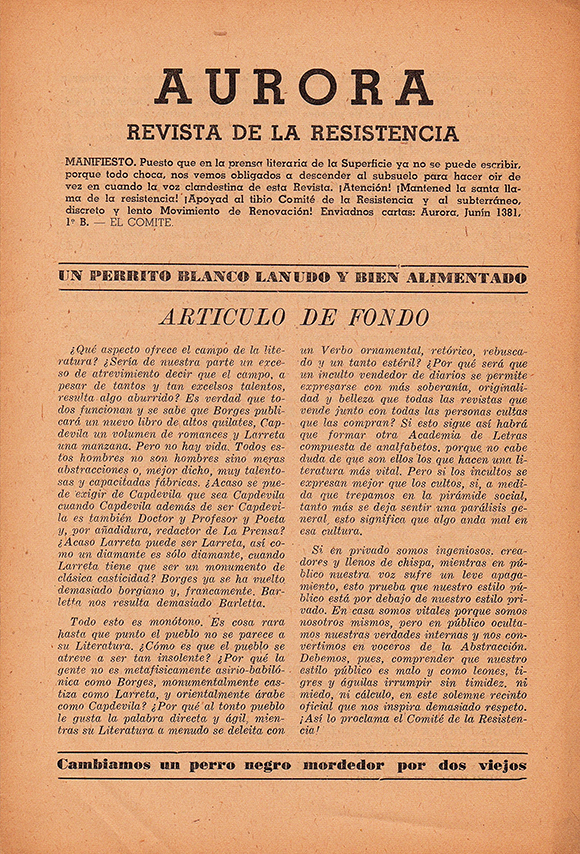 LITERARY VANGUARD
Dawn. Magazine of the Resistance. Circa 1947.

Very rare. Quarto (27.5 x 19.6 cm / 10.82 x 7.71 in), 1 p., blank. In good condition. Preserved in a modern folder. Unknown to Lafleur, Provenzano and Alonso, and to Washington L. Pereyra, who does not record it in his large study: "The Argentine literary press 1890 - 1974". First edition in a circulation of one hundred copies.

This is the only published issue of the magazine "Aurora". Its author was the Polish Witold Gombrowicz (1904 - 1969). It came to light in the mid-1940s and the extraordinary poet Jorge Di Paola collaborated in its writing, who stated about this underground magazine -a kind of incunabula- and about Gombrowicz: "This perpetual, involuntary exile, perhaps exiled from all ideas and conventional aesthetics, has in Argentina the fate of those who do not send the part. Revered by almost the entire post-Borgean generation, from Ricardo Piglia, through Germán García and Fogwill to Juan José Saer, and many more, his books are hardly found in any bookstore (...). " (1)

Gombrowicz (2) lived in Buenos Aires between 1939 and 1963, where he developed his disruptive creation, made with great humor and without disregarding the depth of his thoughts. He was awarded the Formentor Prize in 1967 and was a candidate for the Nobel Prize in Literature.
Notes:
1. On the Internet: https://www.pagina12.com.ar/1999/suple/libros/99-07/99-07-04/nota.htm) 2. In 2014, the I Witold Gombrowicz International Congress was held at the National Library of Buenos Aires.
| | |
| --- | --- |
| AUTHOR | GOMBROWICZ, WITOLD |
| ITEM | 47 |
---
Are you interested in selling some works?
Send us an email briefly indicating
which works you intend to put on sale, and we will respond. click here