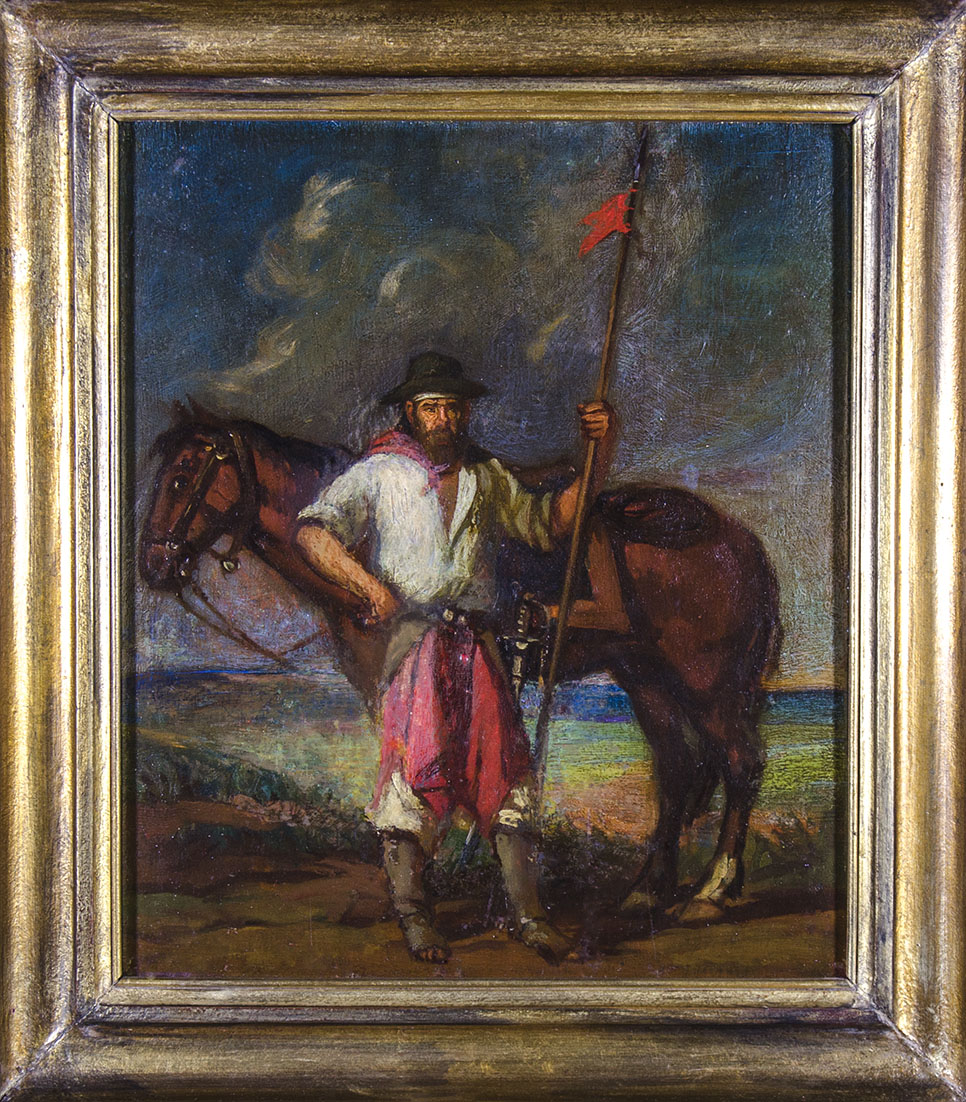 RED CREOLLISM
Lancer gaucho. Río de la Plata. End of the 19th century.
Oil on board. Measurements: 33.5 x 28.5 cm. Restored work. framed.
Darkness looms, the sky is already dark blue and barely golden on the horizon. In the foreground, a lancer gaucho is exhibited frontally. He wears colt boots, spurs, panties and a red chiripá on top. He is paired with silver coins, a white shirt, a red scarf around his neck and a black hat. His weapons are a saber and a spear with a red pennant on the end. His black hair, his thick beard, his tigress skin and his features denote a clear mestizo origin. Behind him the faithful companion, the horse, dressed in all his gear; even the silver details on his headpiece shimmer. He surely made a stop to spend the night, he already removed the handle from the muzzle.
Regarding the formal composition, the slight displacement of the gaucho to the left is balanced by the displacement of the horse to the right. They also harmonize the general darkness of the image, with the luminous accents in the white and red of the garments, some light greens in the landscape, and the whitish veil of a cloud of dust or perhaps the smoke from a nearby fire. The palette, colorful but nocturnal, and the free, thick, rough brushstroke, places us at the end of the 19th century. A work of unidentified author, but undoubtedly of exquisite character, fruit of the brush of a good artist.
Perhaps it is a lancer on horseback, from the red faction, in the style of those carried out in Uruguay by Diógenes Hecquet.
| | |
| --- | --- |
| AUTHOR | AUTOR NO IDENTIFICADO |
---
Are you interested in selling some works?
Send us an email briefly indicating
which works you intend to put on sale, and we will respond. click here